---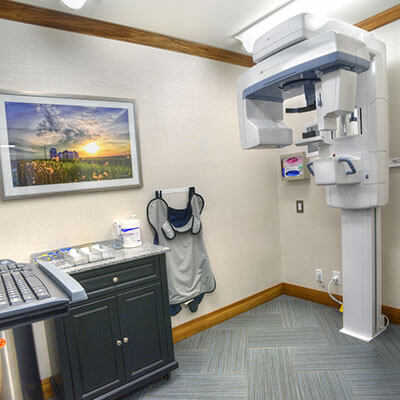 ---
CAD/CAM Dentistry by Sirona®
---
Computer Aided Design (CAD) and Computer Aided Milling (CAM) offer advanced treatment options with less waiting time for a restoration. Depending on the procedure(s) being performed, your dental restoration(s) may be able to be placed on the same day or next day instead of the usual wait of one to two weeks or more. Using a special scanner, the office can take a digital impression without using traditional trays, improving patient comfort. The restoration(s) is then designed using advanced computer 3D technology that can analyze the interaction of the new restoration with your other teeth. A new crown can be milled out of a solid piece of tooth-colored composite material providing strength that may surpass that of many crowns produced in a dental lab. Advancements in materials and technology have provided many options for great restorations that can both look great, provide superior strength compared to other restorations, and reduce the need for multiple visits to the office.
---
Dentsply© Drufomat Scan Pressure Machine
---
Dentsply© Drufomat Scan Pressure Machine is a top-of-the-line, lab-quality machine used to fabricate custom oral appliances such as athletic mouthguards, nightguards for grinding/clenching, bleaching trays for teeth whitening, orthodontic retainers and other dental appliances.
---
Designs for Vision Inc.© Dental Loupes
---
Designs for Vision Inc.© Dental Loupes with eye magnification and LED headlight are worn for all exams and procedures to improve visibility and the quality of dental work.
---
Digital X-ray
---
Digital x-rays reduce the amount of radiation needed as compared to film x-rays. The improved diagnostic capability of digital x-rays and the ability to view the x-rays on a computer screen allow the patient to better understand and follow treatment. Digital x-rays by Instrumentarium Orthopantomograph® OP300 are instant, so there is no longer a need to develop the film. Digital x-rays save time and increase patient care. It's also a very green technology. By eliminating film, developer and chemical waste, digital x-rays are better for both the patient and the environment!
---
Electronic Medical Records (EMR)
---
Using Patterson Eaglesoft Electronic Medical Records, our practice is able to quickly and accurately access patient information in order to provide the utmost in patient care. This helps to ensure patient confidentiality as well as reduce the need for paper. Using a digital format allows for quick access to patient information when needed for insurance records while providing a secure filing system.
---
Digital Intraoral Cameras
---
An intraoral camera combines the latest video technologies with dental care. Both the patient and dentist can see detailed images of the teeth and mouth in real time. With Schick USBCam intraoral cameras, patients are able to better understand what is happening and review the status of their oral health.
---
Digital Caries Detection
---
With this latest technology, an Acteon SoproLIFE intraoral camera detects cavities that are not yet visible to the naked eye. This technology enables dentists to practice minimally invasive dentistry by providing a better possibility of diagnosing this disease at an early stage.
---
Digital Flat Screen Monitors
---
These television monitors are found next to every patient chair. Patients can watch a movie or TV show. Patients can also view their dental x-rays when speaking to the doctor about the findings for a better understanding of their oral health.
---
Wi-Fi
---
Our office offers free Wi-Fi for our patients use while visiting our office.